---
---
Lazar Al'baum (1921-1997)
Our pages are dedicated to Lazar Izrail'evitsh Al'baum who brought the fame of the Afrasiab murals to the public.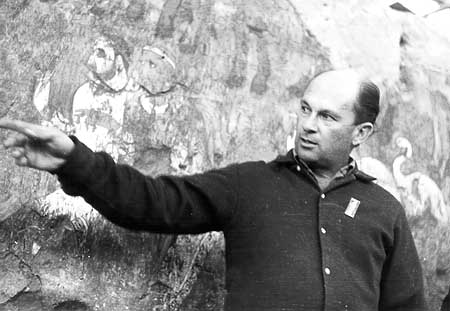 Lazar Al'baum explains the murals of the southern wall in situ. Image taken by Burchard Brentjes in 1968 during an excursion of the great Kushana conference held at Dushanbe, Tadzhikistan.
Lazar Al'baum was an excavator with "golden hands". Besides his work at the Afrasiab site he also discovered highlights of Central Asian art at Balalyk-tepe and Fayaz-tepe (both in Southern Uzbekistan).
---
---