---
---
Northern wall
The Chinese boat
A water panorama with aquatic animals, plants and boats is depicted in the left part of the northern wall. Of the two boats the first one deserves special interest. It is peopled by a group of ten ladies: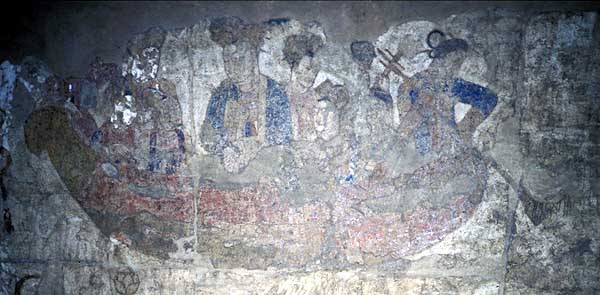 Above: Boat with ladies. - Below: The same after a copy in Al'baum's book: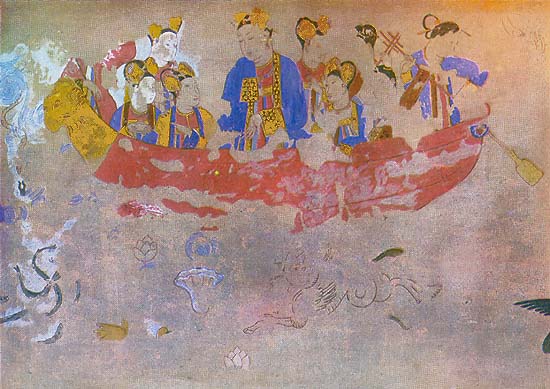 One female in the vessel is emphasized by her height and her position in the centre. She is accompanied by musicians, oarswomen and others. The persons are characterized as Chinese; their outfit corresponds to Tang fashion.
We share Al'baum's interpretation of this group as a princely woman with her attendants, although doubts concerning this were expressed here and there. These doubts concentrate on the fact that the main female person is not dressed according to the supposed social rank. However, we believe to have an explanation for this contradiction.


Right: Close-up of the princess
Below: left half of the boat: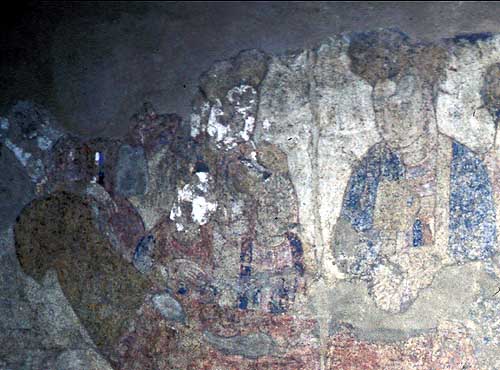 Below: the same scene as above, according to Al'baum: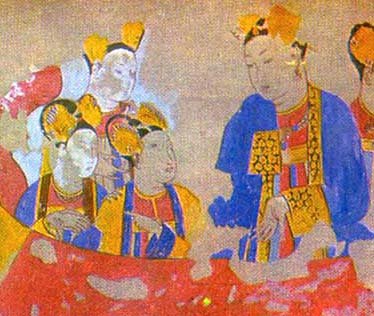 L. Al'baum has drawn attention to the gestures of the persons. One attendant-girl (above image, foreground centre) points to her neighbour. The latter (foreground left) grasps the right wrist with her left hand. Both persons look towards the princess as if they would say: "Look at this gesture!". And the princess is doing so; she seems to answer with one hand opened towards her vis-à-vis. Now Al'baum has convincingly explained this as a symbolic gesture for a marriage. In support of his interpretation he cited ethnographic parallels from Central Asia.
In our opinion it seems very unlikely to see this ingenious scene of symbolic communication merely as smalltalk of inferior Chinese court people on a palace garden's pond.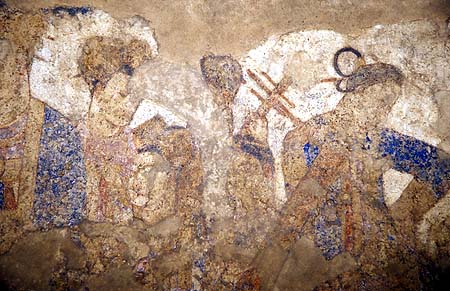 Above: right half of the boat with musicians and oarswoman.
Back to main text (northern wall)
---
---