---
---
Northern wall
Models for the hunting scene (page II)
Two further parallels from Tang dynastic art are given below:
Right: Procession of guardians with banners. Painting from the tomb of prince Yide, AD 706

[Image after Han Tang bi hua (Murals from the Han to the Tang dynasty). Beijing 1974, pl. 88 ]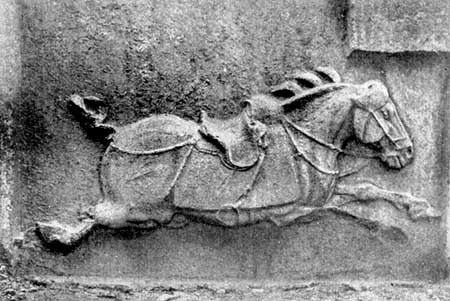 Above: Horse from the Zhaoling, the tomb complex of Tang Taizong (AD 626-649). Almost every detail of the animal is similar to the horses of the Afrasiab hunting scene. But unlike the latter the Zhaoling horse seems to represent a more compact breed. [ Image after Strzygowski, J.: Asiens bildende Kunst in Stichproben, ihr Wesen und ihre Entwicklung - Augsburg 1930, ill. 625 ].
Back to main text (northern wall)
---
---