---
---
Southern wall
The camel riders
Two camel riders follow as a third group behind the white elephant and the cavalcade of three mounted females.
The images below are close-ups; look here for the context within the left part of the procession.
| | | |
| --- | --- | --- |
| Right: The upper parts of the two camel riders. They are furnished with golden ceremonial staffs terminating in heads of fabulous beasts. Certainly these staffs denote a ceremonial rank of their bearers. | | |
Below: The heads of the two camel riders. Note the heavy cuttings on the painting. These are obviously traces of later "visitors" (muslims, but not necessarily) who killed the images magically by "cutting through the throats" of the persons depicted. Destructions of this kind can be seen on the western wall, too.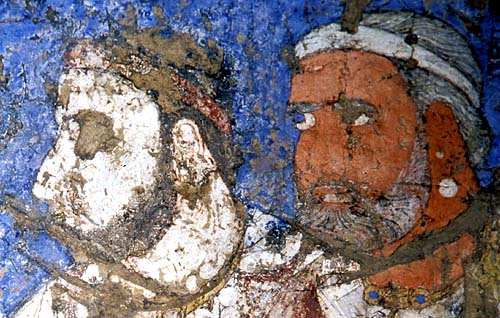 Back to main text (southern wall)
---
---