---
---
Southern wall
The white elephant and its riders (page III): Evidence for a music band
A good parallel for the supposed harp player on the white elephant (cp. below, left) is given with Sasanian rock-images from Taq-e Bustan (below, right). Note the similarities of the instrument's bodies (left, in blue) and the attachment piece of the string-holder (left, in yellow).
Above left: Afrasiab; above, right: harper in the royal boat, Taq-e Bustan, Great Ivan, left wall [ Image after Fukai, S. - Horiuchi, K.: Taq-i-Bustan. I. Plates. Tokyo 1969 (= The Tokyo University Iraq-Iran Archaeological Expedition, Report 10), pl. LI ]
Below: A painted decoration of a plectrum guard from the Shoso-in, Nara1, furnishes us with a complete scene of what the Afrasiab elephant may have carried: a white elephant, crowded with musicians, including one female and two of Central Asian type: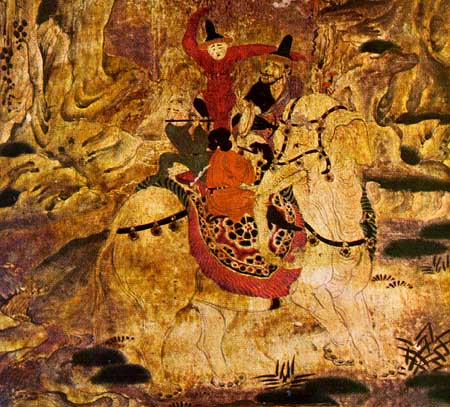 The similarity with the Afrasiab scene is very close. Compare the saddle blanket and the bridle. Even the female flute player comes near to fall down from the animal's back - just the same case we find with the Afrasiab girl.
[ 1 Image after Hayashi, R.: The Silk Road and the Shoso-in. New York, Tokyo 1975, fig. 121 ]
---
---