---
---
Southern wall
The southern wall paintings: a ranked procession (page I)
On the southern wall a great procession of riding and walking people moves towards the left end. The overall drawing below shows the main layout.

The above drawing was put together from seperate sheets in the book of Al'baum. Some details need correction (especially the oversized rider). At the web site of afrasiab.org a new overall-rendering is on display. In our opinion it is much more speculative than Al'baum's. The main weak points of the French reconstruction seem to be the left end of the wall, the elephant's scene, the great rider and his followers. At this point we only draw attention to the upper part in the centre of the wall (cp. above, centre). This is the highest surviving part of the murals. What remained can be seen in the close-up below: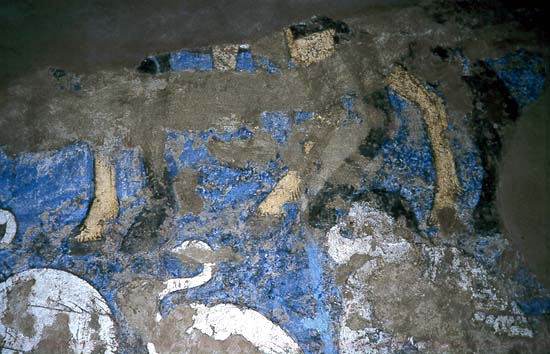 The legs of yellow and black horses are easy to recognize, furthermore some traces of a sword and possibly a bowcase (upper centre). They indicate that armed riders sat on the animals. Now - the French reconstruction brings these riders in complete Turkish fashion. There is absolutely no indication for that. In the contrary, the remains of the southern wall as a whole suggest that there were nobody else Sogdians depicted!
Continue reading this overview.
---
---