---
---
Western wall
Group captains no. 18, 19 and 20 - (page I)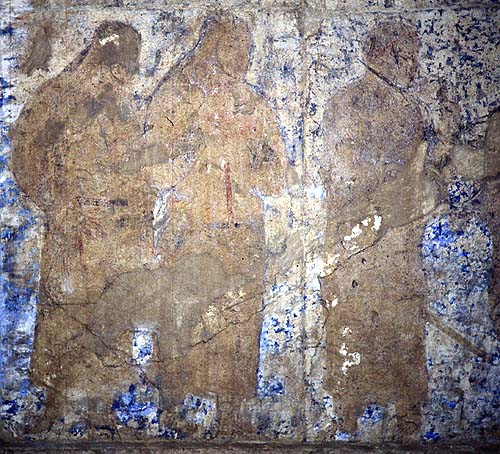 The mural section is heavily defaced. The left pair represents two Turkish group captains. Slightly separated, to the right, the third member is not of Turkish origin. Certainly this person means a Sogdian with short cut hair, turning his head backwards and giving a sign of attention to the following delegates.
Below you can see a copy from the publication of L. I. Al'baum showing the same section of the murals. At the time the copy was taken there were considerably more traces of colours on the spot: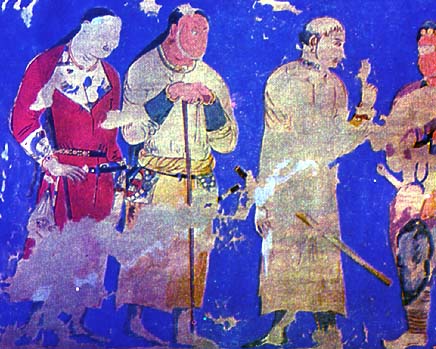 Note the different colours of the three caftans of figures 18 (red), 19 (yellow), and 20 (white). Figure 19 (second from left) has rolled the upper part of his yellow caftan down to the waist - this way of dressing is widespread among Central Asians even today.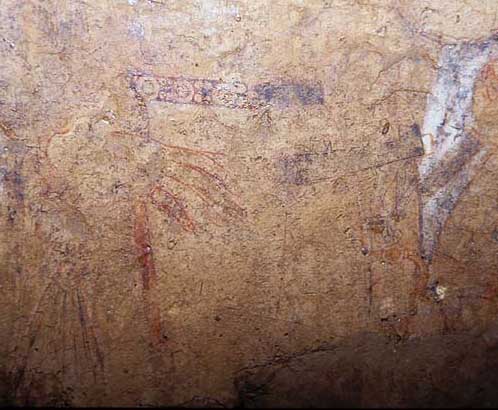 This close-up depicts a part of figure 18 with hands, staff, handkerchief (lower left), bracelets (center left and lower right, in yellow), belt (center) and dagger.
Back to explanation of delegates
Back to main text (western wall)
---
---