---
---
Western wall
Turkish court attendants
In the third register (counted with ornamental base; second register of persons), there are depicted many squatting and talking people (e.g., figures 28-32, 35-42). Their long plaits of hair and their outfit characterize them as Turks.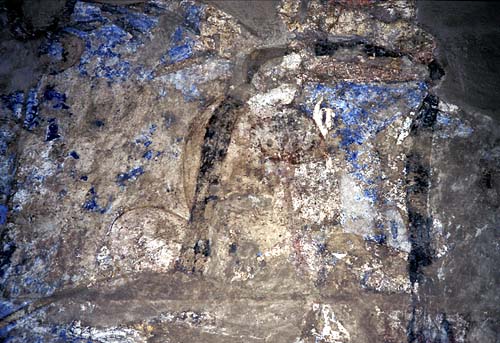 Above: Close-up of a painted section above figures 2-4 of the western wall (left end). In the centre is figure no. 28, surrounded by further Turks. He sits with his back to the beholder. Note the plaits and the long straight sword in the lower left.
| | | |
| --- | --- | --- |
| Right: Copy of the same section | | |

Left: Ancient Turk sculpture, from Korumdy, Northeastern shore of Issyk-Köl
[ after Ja. A. Šer, Kamennye izvajanija Semireç'ja, Moskva, Leningrad 1966, tabl. VIII ]. This is the same ethnic type as on the Afrasiab paintings (top of page).
Back to main text (western wall)
---
---