---
---
Southern wall
The followers of the oversized rider
Only few fragments survived of mounted people following the oversized rider. They close the great procession of the southern wall.
Below: Copy from the book of Al'baum: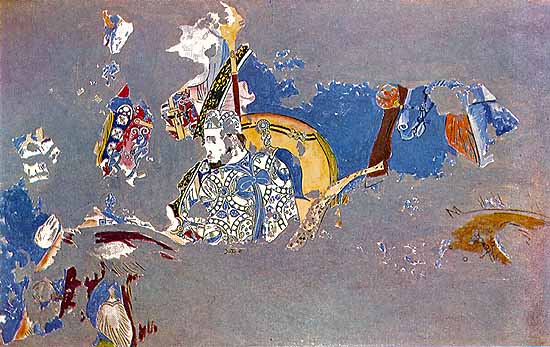 Once there was depicted a cavalcade of several noblemen. The persons wear precious silks. Their outfit consists of long bowcases and golden swords. Furthermore, at least one rider (foreground) seems to carry a standard or banner. It is tempting to interpret the mounted group as suite of king Varxuman consisting of the representatives of the Sogdian principalities. (That means, there should have been eight riders, cp. our discussion of the banners of Sogd).
| | | |
| --- | --- | --- |
| Right: Riders with a standard or banner (detail). Close-up of present day state. | | |
Back to main text (southern wall)
---
---