---
---
Western wall
The delegates of group A2 (page III): What do they do?
As we have seen, the persons 2, 3, and 4 carry necklace(s), clothing and armament (or at least a decorated weaponry-belt). All this makes the complete outfit of a high-ranking male person, and certainly it was meant to be a gift to some high-ranking male person, too. Doubtless we have to take the combined gifts as an symbolic set.
With this we have a good argument against B. Maršak's central these: He compares the gift-bearers with other Sogdian murals where donors pose close by divine images. These donors offer little fire-altars, precious dishes and necklaces. But nowhere they carry a symbolic set of gifts as in our case and therefore figures 2-4 do not move to meet a deity but a human ruler.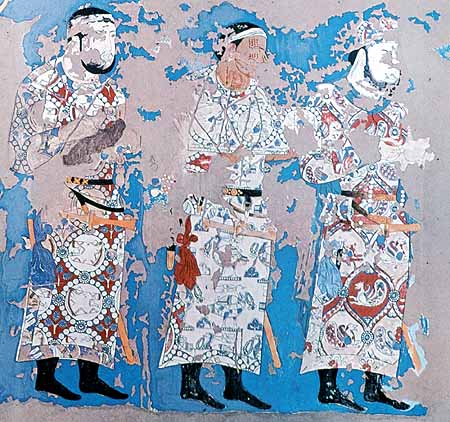 In our opinion the Afrasiab murals operate on several restricted spots with very sophisticated symbolic formulae. This is not only to see with figures 2-4 (above), but also on the northern wall's depiction of the Chinese princess.
Back to group A2 (page I or page II)
Back to main text (western wall)
---
---