---
---
Western wall
Problems of a new reconstruction
In 1999 a magnificent publication on Central Asian art appeared in France: Les arts de l'Asie centrale, P. Chuvin, (ed.) [= L'art et les grandes civilisations] - Paris. On page 736 there is a tiny image (ill. 736) showing a reconstruction of the western wall murals. This drawing is signed by B. Maršak. Below we have a section of this image with the left (southern) part of the reconstruction: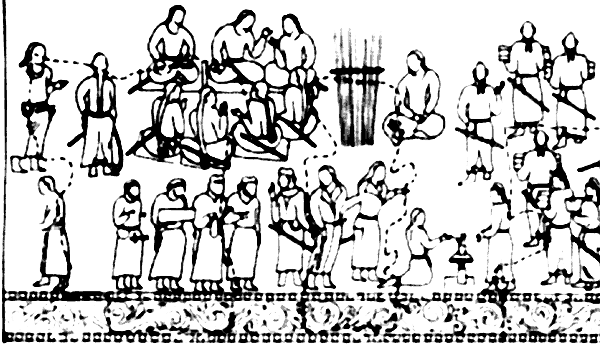 This reconstruction obviously "borrows" some details from my own attempt (published already in 1993), unfortunately without one word concerning the ownership of the idea. Look below: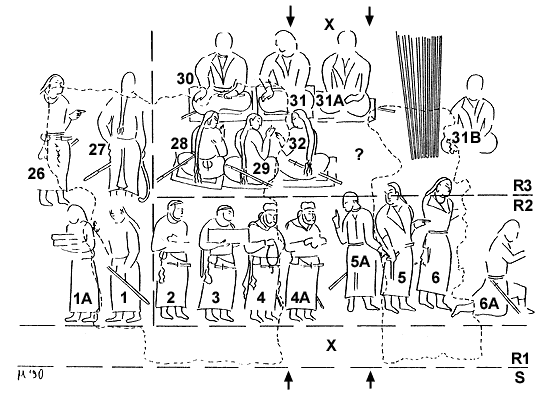 The decisive part is a great lacuna in the paintings marked on my sketch with arrows and an "x". In the lower part of this area (marked as R2 = second register) I supposed two figures: 4A and 5A. These two figures reappear in Maršaks reconstruction. The irony is that Maršak has furnished my figure 5A with a new headgear and with this he made the person a king like figure 4. - But there can be no doubt that figure 5A must have been the remaining third group captain (with figures 5 and 6) leading the whole delegation. And only this configuration gives a sense to the supposed nature of figure 4A: He must have been a princely person because he doesn't belong to the group captains and because he stands in front of king no. 4.
NB: Maršak's reconstruction lacks figure 1 although traces of this person are evidently visible on the original paintings. [Read more on the left end of this wall] - [Read more on Maršak's reconstruction]
Back to explanation of delegates
Back to main text (western wall)
---
---